Ladder Sales
Alco-Lite invented the Aluminum Fire Ladder!
Since 1930, the Alco-Lite name has been synonymous with quality, dependability and service. For these reasons, all types of departments – paid and volunteer, large and small – throughout the United States and the world, use Alco-Lite fire ladders.
Today, almost 85 years later, the Aluminum Ladder Company is still manufacturing ladders that firefighters depend on to protect them while they protect and serve. All Alco-Lite fire department ground ladders meet or exceed NFPA standards and are completely field repairable.
With a complete line of aluminum and fiberglass ladders, the Aluminum Ladder Company is here to serve the fire service with ladders that stand the test of time. That is why, "it only makes sense to buy your fire ladders from the people who invented them."
---

Aluminum Two-Section Pumper Type Extension Ladder
Model

Extended
Length

Closed
Length

Width

Banking
Thickness

Weight
in lbs.

US$
Price

PEL-12

12′

8′-5″

21″

48

$397.00

PEL-14

14′

9′-7″

21″

PEL-16

16′

10′-9″

21″

PEL-20

20′

12′-0″

21″

PEL-24

24′

14′-3″

21″

75

$630.00

PEL-28

28′

16′-7″

22″

$784.00

PEL-30

30′

17′-9″

22″

$882.00

PEL-35

35′

20′-1″

22″

139
---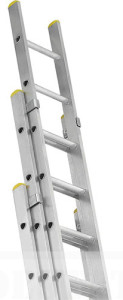 Aluminum Three-Section Pumper Type Extension Ladder
| | | | | | | |
| --- | --- | --- | --- | --- | --- | --- |
| Model | | | Width | | | |
| PEL3-24 | 24′ | 12′-2″ | 23-1/2″ | | 105 | $864.00 |
| PEL3-28 | 28′ | 13′-4″ | 25″ | | | |
| PEL3-30 | 30′ | 14′-6″ | 25″ | | | |
| PEL3-35 | 35′ | 15′-8″ | 25″ | | | |
| PEL3-40 | 40′ | 17′-0″ | 25″ | | 200 | $1408.00 |
| PEL3-40P | 40′ | 17′-0″ | 25″ | | | $1729.00 |
---

Aluminum Pumper Type Roof
| | | | | | |
| --- | --- | --- | --- | --- | --- |
| Model | Length | Width | | | |
| PRL-08 | 8′-5″ | 18-1/2″ | 2-7/8″ | 27 | $239.00 |
| PRL-10 | 10′-9″ | 18-1/2″ | 2-7/8″ | 33 | $247.00 |
| PRL-12 | 12′-0″ | 18-1/2″ | 2-7/8″ | 36 | $270.00 |
| PRL-14 | 14′-3″ | 18-1/2″ | 2-7/8″ | 42 | $295.00 |
| PRL-16 | 16′-7″ | 18-1/2″ | 2-7/8″ | 48 | $351.00 |
| PRL-18 | 18′-10″ | 18-1/2″ | 2-7/8″ | 54 | $397.00 |
| PRL-20 | 20′-0″ | 18-1/2″ | 2-7/8″ | 60 | $444.00 |
---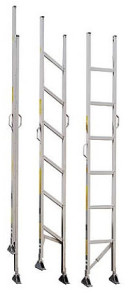 Aluminum Folding Ladder
| | | | | | | | |
| --- | --- | --- | --- | --- | --- | --- | --- |
| Model | | | | | | | |
| FL-08 | 8′-3″ | 9′-3″ | 15-1/2″ | 5-1/4″ | 2″ | 12 | $179.00 |
| FL-10 | 10′-6″ | 11′-5″ | 15-1/2″ | 5-1/4″ | 2″ | 14 | $214.00 |
| FL-12 | 12′-8″ | 13′-8″ | 15-1/2″ | 5-1/4″ | 2″ | 17 | $236.00 |
| FL-14 | 14′-11″ | 15′-11″ | 15-1/2″ | 5-1/4″ | 2″ | 21 | $249.00 |